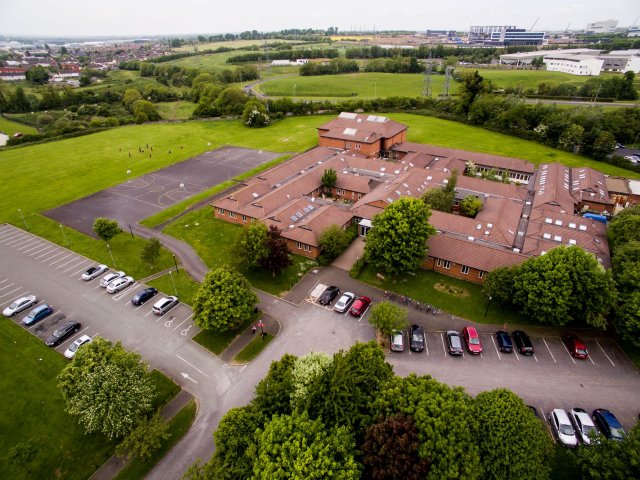 Rath Dara Community College, which is a constituent college of D.D.L.E.T.B. opened its doors on 1st September 1986 in temporary accommodation and moved to its present building in September 1987. The college provides a comprehensive curriculum of academic and practical subjects catering for a wide range of abilities in its student population.
The system of organisation within the college is based on the Pastoral Care structure encompassing a suitably organized programme in Social, Personal and Health Education.
The college can boast of a wide range of extra curricular activities; cultural and artistic, debating, drama, sport (Gaelic and Soccer), canoeing and hill walking to mention but a few.
Over the past ten years there have been changes in communities, in Irish society and in the world at large. The new college was necessary ten years ago to cater for the growing population in the greater Blanchardstown area. The new Town Centre, new industries, especially IBM and the Institute of Technology Blanchardstown will hopefully enhance and develop the area further. There have also been great changes in the whole area of New Technology and the Mass Media. Over this period the college has not remained static. It has changed and developed to meet and reflect the changes that are happening elsewhere.
Riversdale Community College has been to the forefront in piloting important new courses. These include:
The Transition Year Programme
The Leaving Certificate Applied Programme
The Leaving Certificate Vocational Programme
The Junior Cycle School Programme
Civic, Social and Political Education
The college has also revamped the SPHE Programme incorporating RSE.
As a community college great emphasise is placed on community involvement. A vibrant Parent-Teacher Association has been in existence for many years. This is of great benefit to the college.
One thing that has not changed is our philosophy and desire to promote involvement in all aspects of college life. Our philosophy places Particular emphasis on the moral, academic, physical and personal development of each pupil.
We consider academic success to be important but we hold in equal importance the development of the whole person, giving him/her a sense of responsibility and a set of values which will enrich him/her personally and those with whom he/she associates.